2021.02.26.
There was a
subreddit
I saw a couple of days ago on
/gtd
, where Redditors discussed which GTD app is the most good looking. It reminded me of a problem I wanted to write about for a while now: their list design's readability. I know
OmniFocus
,
Things
, and
Reminders
well, so I concluded my experience about their typography below:
A lot of people would say it's Things. It has a friendly UI, but from a readability point of view, it is one of the worst.

In my daily work, I have two problems with Things:

It only displays one line per task, which means, if you have longer task titles, you'll end with a bunch of text clipped out, which is annoying on an iPhone. You have to open each task to see the full title, which is no fun when you quickly want to review your errands list.
Things displays every task list grouped by project. If you like me, you'll usually have one next action per project, so having each project being this prominent is making your lists very noisy.

I stopped using Things because of these issues, and I switched back to OmniFocus, which displays full task titles, and has nicer list readability overall. Apple Reminder is also good at showing lists, which matters the most at the end, so I would go with OmniFocus and Reminders.
Let's see these apps next to each other. From left to right are OmniFocus, Reminders, and Things.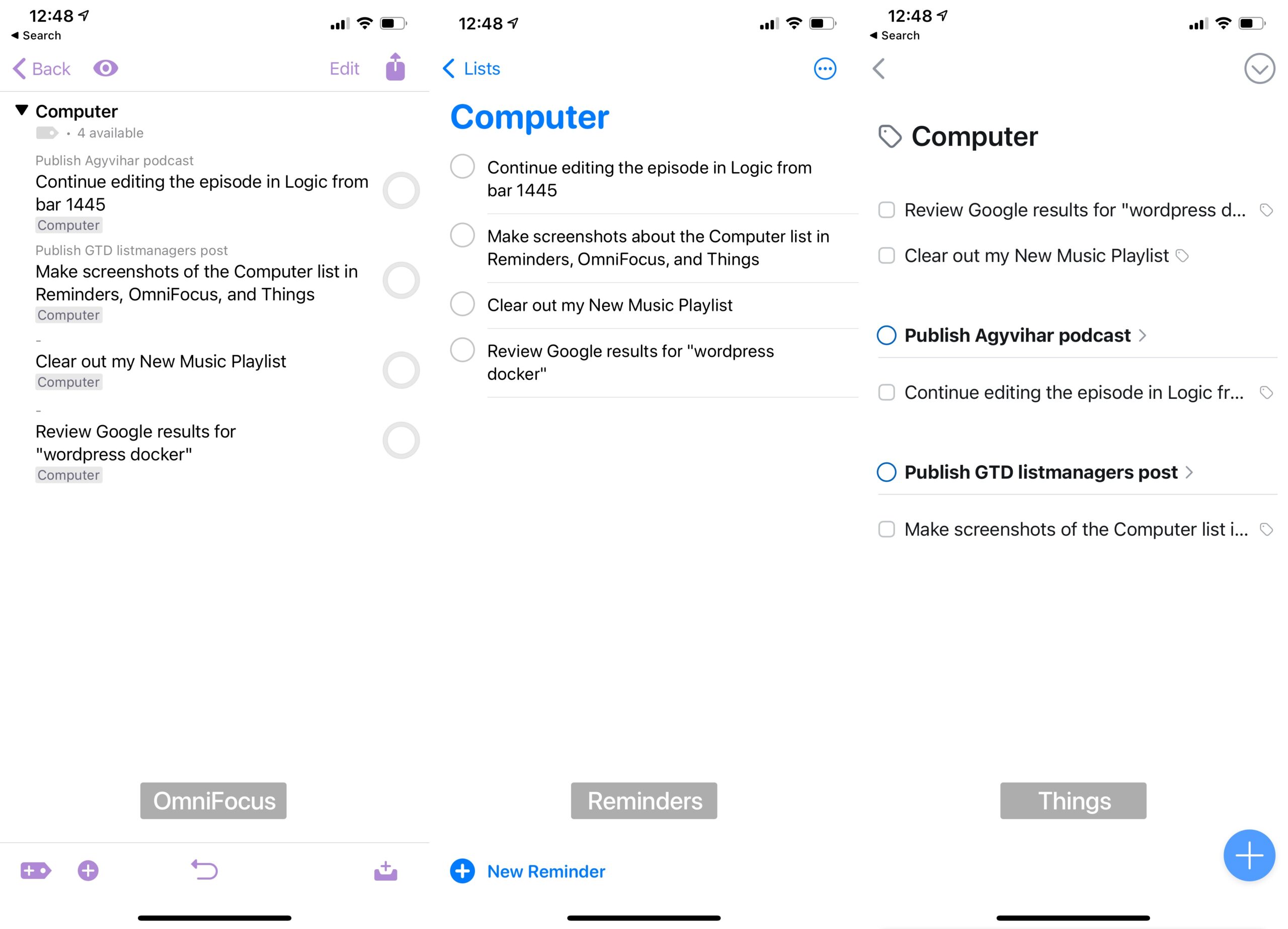 As you can see, Things overflows the text and group actions by projects which makes the readability of a typical next actions list much worse. It was the main reason I left Things after using it for two years and switched back to OmniFocus.
---
I also made a switch from OmniFocus to Reminders in December, but that's a topic of another post.
2021.02.23.
Nowadays, I use SVG icons everywhere, but preparing them is quite time-consuming.
This website
could help pick and use nicely designed ones for your next project.
2020.05.10.
Gyors tipp: sok webes alkalmazás billentyűzettel is irányítható.
Ha kiváncsi vagy ezekre a parancsokra, akkor nyomd meg a kérdőjelet. Az esetek 90%-ban meg fog jelenni egy panel, ami listázza az adott alkalmazásban elérhető billentyűparancsokat.
2020.04.28.
I just grabbed out two old friend from the bottom of the drawer. I have a couple of projects running parallel, so it could be helpful to schedule which client I'm dealing with on which day.
Also capturing notes using analog tools is still the best (I love the smell of that pencil).