2023.03.16.
We're entering the spring, and the Mac and iPad Pro are on a collision course.
How about, no?
Because Federico doesn't like Stage Manager and iPadOS doesn't have multi-channel audio capabilities currently, I don't want my iPad to become a Mac, and I don't want my Mac to have a touchscreen (and become an iPad). And I especially don't want them to be merged into one device (buy a Surface Pro if you want to have everything in one device, that will surely be fun).
I fear that I'm going to have to wait a couple of years for the Apple computer I want to exist, and I'm not sure anymore that iPadOS can evolve in meaningful ways in the meantime.
And I fear we will end up with an OS that is just copying macOS because we must repeat the same "Apple can't evolve iPadOS" narrative on MacStories every two years.
---
While discussing iPadOS, I'm also tired of hearing about the "there are no pro apps for the iPad" argument. Let me tell you something: there are many pro apps available for the iPad, only they feel different since the device these apps are running on is very different.
Where are the pro app reviews of Affinity Designer, Affinity Photo, Affinity Publisher, or DaVinci Resolve on MacStories?
And what about Ulysses, Craft, Things, MindNode, Pixelmator Photo, or Keynote, which are fantastic on the iPad? Are those pro apps enough? I use these apps every day for "serious work" on the iPad, but I also have other pro apps on my Mac for development because it is just better for that task.
Or should we have Final Cut Pro and Xcode for the iPad? That's what Apple pundits mean? Are you seriously expecting Apple will port FCP with all its features available in the 1.0 release, and it will be usable on an 11-inch iPad Pro?
I'm sure Apple will release more of their pro apps for iPadOS down the road, but don't expect it will work like the desktop version. Apple pundits, of course, will complain about it not being like the desktop version, like they do with Photoshop being simpler on the iPad.
Let me remind you that Photoshop and Final Cut Pro (or Logic Pro, for that matter) are apps with decades of development history. Nobody will bring the same level of functionality to the iPad on day one. If you want to use the desktop version of Final Cut Pro, then use the damn desktop version of Final Cut Pro.
Let's not forget that iPad Pros, which are at the top of the food chain for iPadOS, have the same CPUs as Macs at the bottom of the food chain. If we consider a MacBook Air mainly made for everyday tasks (maybe with a bit of "pro-work" here and there), what performance are you expecting from an iPad Pro with the same CPU?
There are many low-hanging fruits to be fixed on iPadOS, but let the damn thing shine on its own. If Apple merges these two platforms, like how pundits want them to, we will end up with a freak-show.
2023.03.14.
Interesting article about how we can use emails to collaborate on projects:
For something temporal, and for groups of eight people or less, I believe email is superior for planning. Pretty Trello boards may look like you've got your act together, but you still have to type it out, get others to agree, and not forget important details. Trello can't help you think. Even though software like Trello is quite easy, that doesn't mean its universally understood the way email is. The documentation for Trello still must be read and understood.
I'm one of those people who like to communicate over email because it's quick, and you can organize your end in any way you want.
The problem with a planning approach like this is that some people can't use email appropriately. They create new messages when they should reply; they forget to answer questions etc. It happens on other platforms too. Usually, they are terrible with planning in general. So people blame email for being old and unusable.
Nowadays, a lot of people are in love with Slack.
Let me tell you a secret: it is even worse for work-related communication and project management in any possible way because it is closed, everyone has to use the same horrible client, and people expect instant communication from it (and don't get me started on people who want everyone to use the status field as team Twitter).
People who couldn't manage their emails started to blame it, which made companies switch to Slack, where these people are still the bottlenecks in the process, but now everyone has to use the same crappy client.
2023.03.05.
As an AI language model, ChatGPT has gained a lot of attention lately. It is widely known for being quite powerful and having impressive natural language processing capability (especially for programming). This is why I decided to create a Ruby gem, RubyGPT, built on top of the newly released ChatGPT API which will enable me to chat with ChatGPT from the command line.
I recorded a demo of how RubyGPT works. I encourage you to watch it to understand better how this tool can make interacting with ChatGPT more efficient. It can be used directly from the command line or integrated into almost any editor and used like an interactive REPL.
I also created a corresponding AppleScript that passes the currently edited file from BBEdit into the `rubygpt` gem, parses the request then updates the file, making it feel like an editable conversation.
RubyGPT can be helpful in programming sessions, brainstorming, or general inquiry. It feels like you're editing a Markdown text with an AI pair.
I may release this tool if there is a demand for it.
2023.02.18.
Bookmarked "Scarlet":
Scarlet is a personal issue tracker that saves to a file that you can include in your project directory, or anywhere you prefer. No accounts, no cloud services, no syncing, no third-party integration. Just a simple place to file away your project's to-dos and close them when they're complete.
2023.02.16.
Bookmarked "Montaigne".
Make a website, blog, or portfolio using nothing but Apple Notes.
2023.02.08.
Other than Apple's official documentation, what are the best sources on learning AppKit?
2023.02.01.
I'm just testing Hookmark integration with my Bike blogging script.

Update

So now I can…

Blog freely in Bike using a new outline for each month.

I can keep posts private using the SKIP keyword.

Or I can publish them on the blog by adding a timestamp.

I removed embedding the permalink into the root node. Instead I use Hookmark to navigate between the post and the Bike node.
We can watch Chris Coyier going for a 13 minutes ride of cleaning newsletters and spam from his work inbox.
I usually try to unsubscribe from these type of emails too.
If I can, it goes into the trash. If I can't, then it goes into spam. I don't archive these like Chris does.
2023.01.31.
One of the best features of Craft is daily pages notes, which can be used as a starting point for many ideas and drafts.

I'm thinking of giving Bike a go as a daily logging app.

Still, I like Bike better because there is so much power behind this simple app.

I can automate things around my notes using standard Apple Script.

I can parse Bike files using Ruby and Nokogiri.

It can link to other parts of a document, even link to other rows in other Bike files.

One of the best things about using Bike as my daily logging tool is that I can write blogposts inline and post them instantly.

I can't do that with Craft.

Craft is excellent for writing documents, so I'm not getting rid of it, but as a thinking tool, I like Bike better.

I can consider Bike as a starting point for everything I do creatively.

Enhanced with Hookmark, I can even start a new anything and still go back to the source.

I can continue a line of thought in a different app, like TaskPaper, which can be better for the task at hand.

Previously
The next decade of innovation is ahead of us, which means that the Web 2.0 "r" suffix (Flickr, Tumblr, etc) will be replaced with InsertNameHere AI.
Liked "Things Box 5×5 by culturedcode".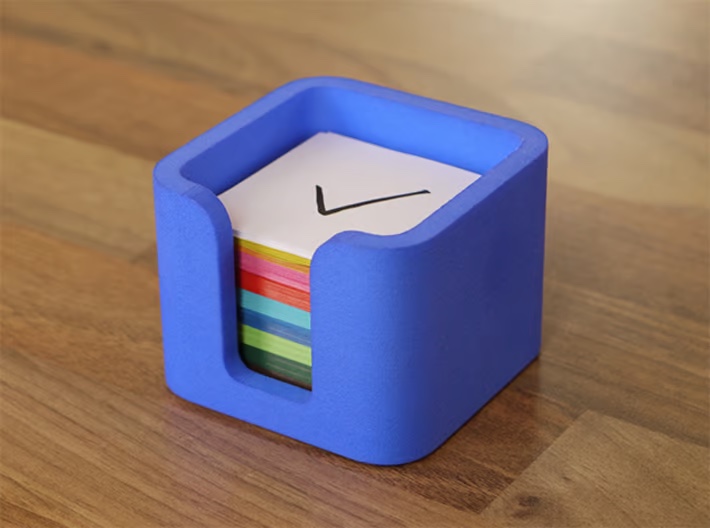 My wife is gonna kick my ass, but I ordered one. It's so cute!
Bookmarked "Auxl".
Auxl is a native API client for macOS. Its powerful node based system provides a whole new way to organise, test, and develop APIs.
Bookmarked "CodeEdit".
A lightweight, natively built editor. Open source. Free forever.
2023.01.30.
The Services menu is getting a well deserved love from the Kaleidoscope blog:
The Services menu, originally part of NeXTSTEP, was introduced to the Mac with the advent of OS X in 2001. Throughout the entire history of OS X (now called macOS), Services never received a lot of love or major updates. Luckily, Services continues to work to this day and can be remarkably helpful.
One of the things I like about LaunchBar is its integration with the Services menu. There is no need to install a bunch of LaunchBar plugins; you can simply reuse already provided system services and share extensions from installed apps.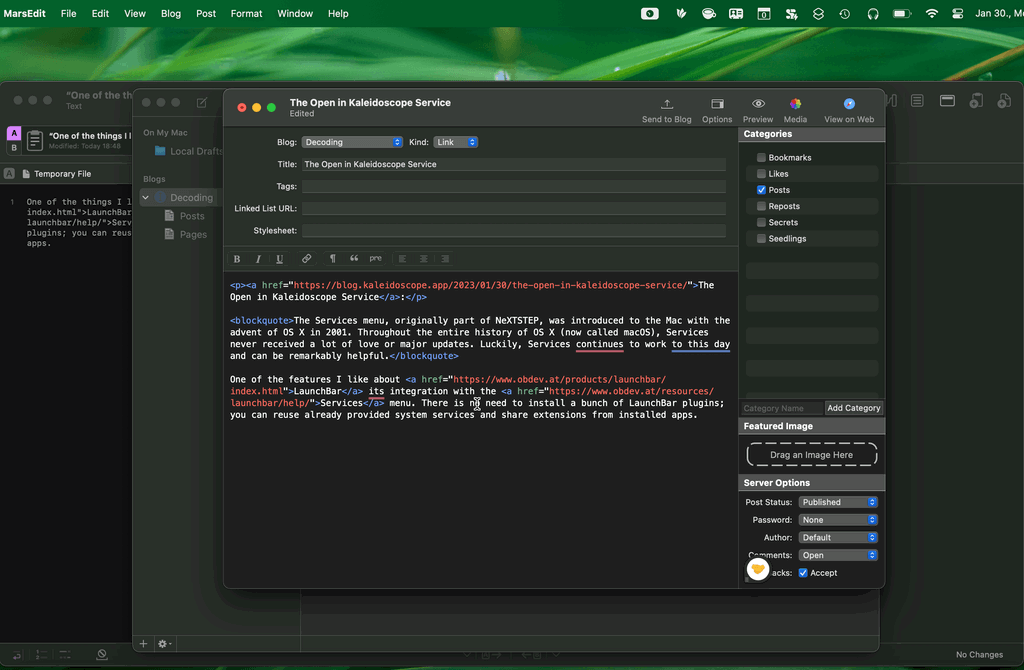 2023.01.29.
I was thinking about making a more advanced GTD system in Numbers other than just using Reminders in macOS. This post lays out this idea in more detail.
First, create two tables for lists
We can store next actions of a GTD system in Apple Numbers by creating two tables for "Next Actions" and "Projects".
The Projects list is just a list of projects with a completion checkbox, a title, and an optional due date field.


We could add optional notes or a project support field to link notes and other assets or link them using the title field.

The Next Actions list contains a completion checkbox, a title, a due date, a context, and an optional project field.


The context field can be a drop-down listing of all of our contexts.
The project field can be linked using a formula for the projects table title field.

Add groups for contexts
Grouping on the next actions table can be used to group next actions by context.


Contexts groupings can be folded, depending on where we are and what we want to see.
We can create sums for the number of next actions in a group.

Optionally, sync with Reminders
Writing an AppleScript for syncing with Reminders should be possible.
The script can create different Reminders lists for each context like Kinless GTD did for iCal back in the day.
The due date field should be assigned as a Reminders due date.
Next actions can be added to each Reminders list using the following format:


✓ Next action title [Project Title]

Questions
Could it be possible to sync changes from Reminders back to Numbers using AppleScript?
How would we store task-related notes?


A new field can be long, but we can't have fields under row without merging rows or columns.